Greetings friendly friends 🙂 Thanks to all who came out for the January show – it was really great to see some old friends in person again !
We're playing again April 3, 2022 at the World Famous Baked Potato. Two sets, 8pm and 10pm. Advanced tickets available at thebakedpotato.com
Hope to see you there. HJ
—
Hey friends! We're excited to be playing a live show at the World Famous Baked Potato on Sunday, January 23, 2022! Tickets available at thebakedpotato.com
Happy Holidays and Best wishes to all for the New Year 🙂 Hazey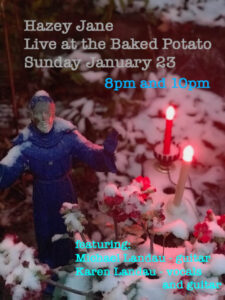 So thrilled to announce the release of Hazey Jane's new record All Kings. The intense devotion of the musicians who took part and the beautiful mix by Dave O'Donnell really bring the songs to life and highlights the stories being shared.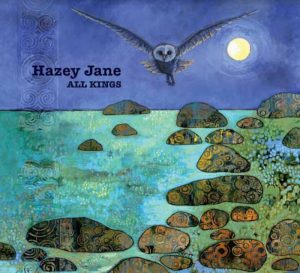 Send us your address and we'll mail you a free "Don't Listen to Hazey Jane" sticker!!! Email us at hazeyjane@hazeyjane.net!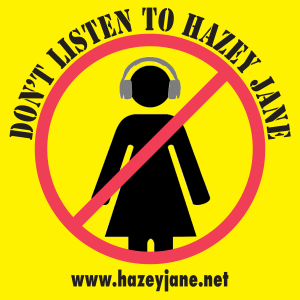 Christmas Show
Happy Holidays everybody! Come out and join me for some songs and cheer and stick around for one of my favorite bands, "The Dusty Meadows Band" featuring a very special guest… and another great band, "Nothin' Personal" after that !!! xoxox HJ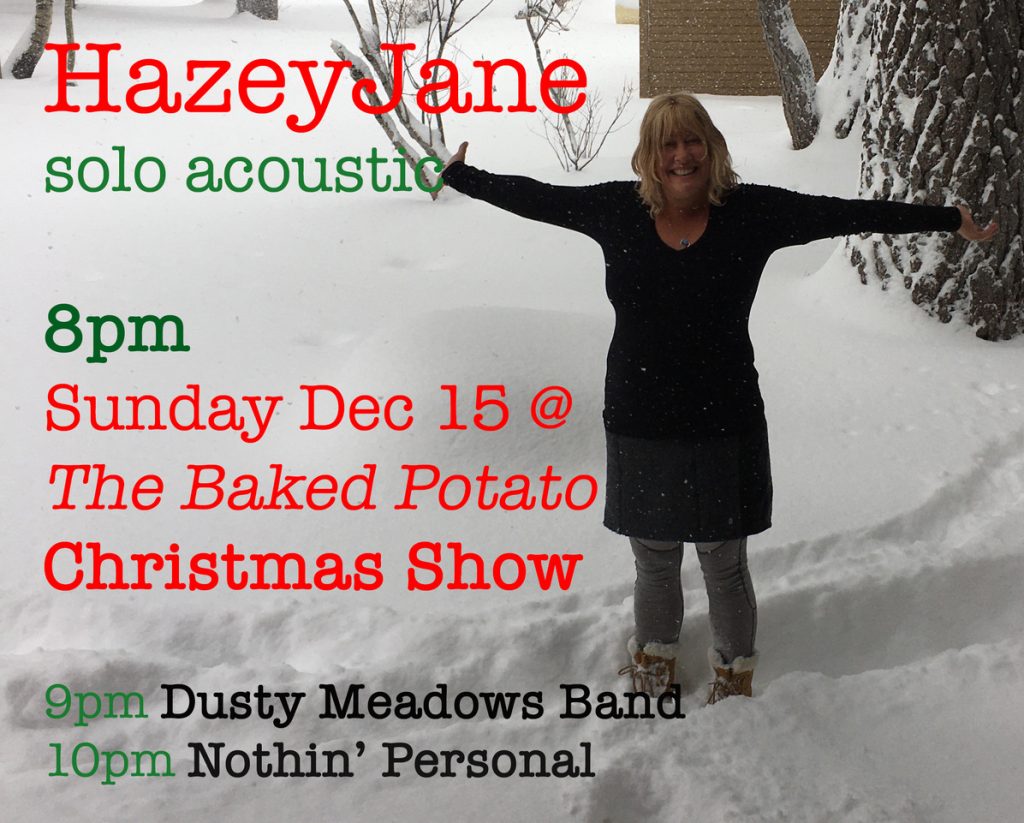 Upcoming Show
Hey everybody! Pre-Thanksgiving Hazey show coming up Sunday, November 18th, 2018. Check out the flyer below! Advanced tickets available at thebakedpotato.com. See you there!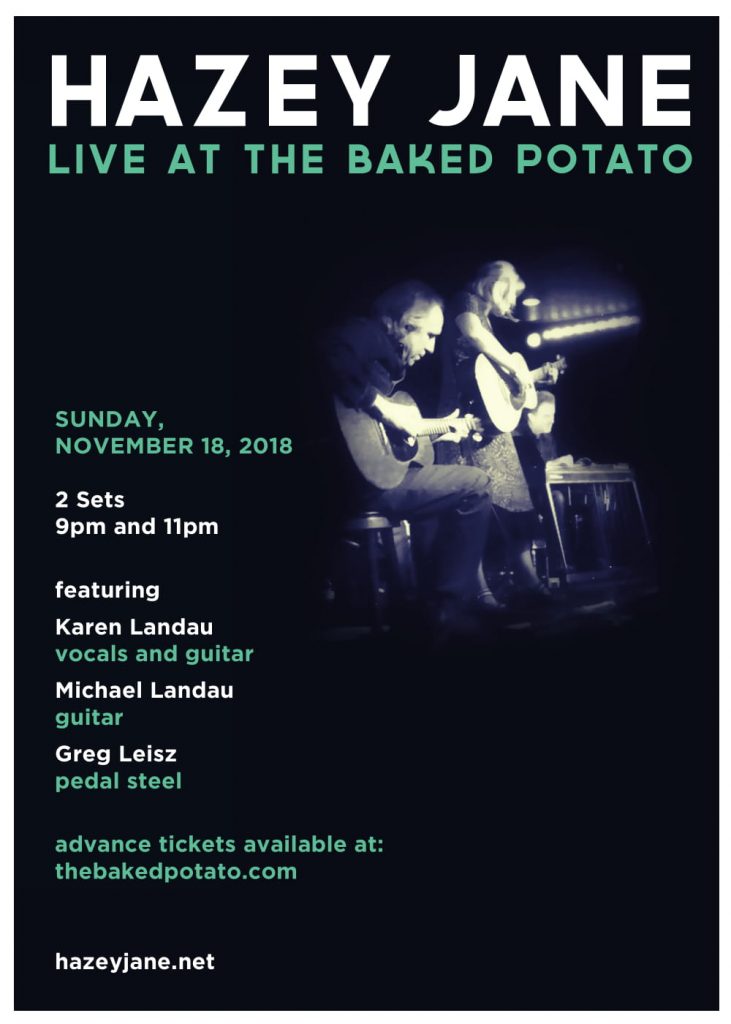 Live at the Baked Potato!
Hey hey Everybody – come on down to the Baked Potato for a post Thanksgiving Hazey show, Sunday, November 26th, 2017. 2 sets of Hazey Jane, 9pm and 11pm … Karen and Mike on guitars – Karen on vocals. Advanced tickets available at thebakedpotato.com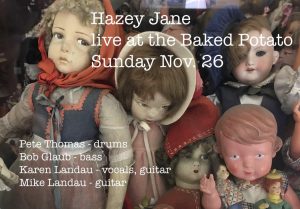 Thank You!!!
Thanks to everyone who came out and supported our 2017 Rowan's Roses Benefit – it was so much fun!!! Dustin and Trevor Boyer's performances made it extra festive – thank you to them and all their fans for coming out too. Together we raised over $1,700 for research into a Cure for Cystic Fibrosis. Rowan's Roses Team raised over $7,000 altogether this year. Thank you also to Leslie Nitta for the best homemade cookies EVER and to everyone who donated online from all over the world. Hazey Jane fans RULE!!!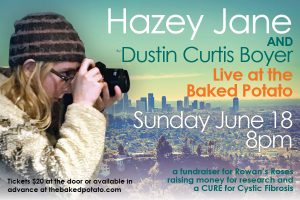 Upcoming Show
Hazey Jane is going to be playing a post-Thanksgiving show on Sunday, November 27, 2016 at the World Famous Baked Potato in beautiful Studio City, California. Come on down and sing along with us!!
Rowan's Roses Benefit 2016
Thank you to everyone who showed their support for the Rowan's Roses Benefit in April. With everybody's help, we raised $1490 this year to help fund a CURE! And we had a really good time at the Baked Potato. Roses were everywhere. We even had a beautiful surprise by our friend James Carrington. Yay team! Thank you to all who donated online and those who came out to the show. The proceeds will benefit the Cystic Fibrosis Foundation through our friend Rowan's team which is participating in the "Great Strides" walk, raising money for Cystic Fibrosis research.
Click on this link to donate any amount, no matter how small. Thank you!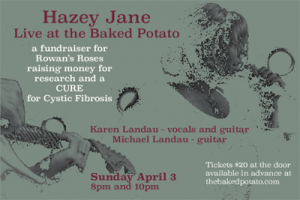 New Recording
New recording in the works! Michael Landau on guitar, Andy Hess on bass, Charley Drayton on drums, Greg Leisz on pedal steel! Yay! All new songs by Karen… can't wait to share with you!
Live Show
We'll be performing live at the Baked Potato Sunday, January 17, 2016! Greg Leisz on pedal steel, Michael Landau on guitars, Reggie Hamilton on upright bass, and Karen singing and playing her favorite Martin acoustic with a new Sunrise pickup like Keith Richards has!
Stolen Fish at the Baked Potato
We're excited to be playing a "Stolen Fish" show at the Baked Potato on Sunday, August 23, 2015! We'll be playing all the hits with the OG lineup – Makoto Izumitani on drums, Chris Roy on bass, Michael Landau on guitar, and Karen on guitar and vocals. Come on out if you can!
Rowan's Roses Walk
Click here to donate directly to her team.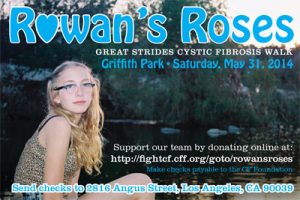 Thanks to all who have participated in the past. Although we were not able to schedule a benefit performance this year, we still want to support Rowan and help to raise money for important research into a cure for Cystic Fibrosis.
The New Hazey Album
The new Hazey Jane album "East Virginia and Other Folk Tales" is now available on 180 gram vinyl, CD and on iTunes! It's a collection on folk songs I've loved since I was a kid – take a look on our "Music" page.